My Civil War Bullets page
I like bullets. I guess that's good because I sure dig alot of them. I've got a bucket almost filled with them since I started detecting. Sometimes all I can find are bullets. Other times I can't seem to find one at all. My bucket 'o bullets is much smaller than most hunters but I've still got several hundred.
Here is the result of two hours at a Union Cavalry camp I found on a friend's farm. The second picture is about an hour's worth of hunting. Ten bullets, a blob of lead and a knapsack "J" hook missing it's button.
Here are most of the varieties of bullets I've found. Since putting this picture together, I've added at least a half a dozen new bullets. Eventually I'll make a new scan showing them all together. These are mostly Union bullets but there is the odd Confederate bullet in there. I find alot of melted lead at some of the sites I hunt. Alot of times you still see remnants of the bullets in the blob of lead.

Here's a closeup of the only Williams Cleaner type II bullet I've dug. A zinc washer went where the space is. It cleaned the barrel when fired. Next to it is a Sharps carbine with the mold sprue on the bottom and a .58 ca. 3 ring minnie. On the bottom row is a flat button with bent shank, the button off of a knapsack "J" hook and a brass rivet. This was the result of two hours of hunting one afternoon last fall.

Here is a scan of a Type I Williams Cleaner. I've found two of three varieties now so hopefully I'll get to unearth a Type III someday.
While we're on the subject of lead,...here are two bars of "issued lead".
Here is as of right now, my best bullet. It's MM-66. A Confederate Shotgun slug.

I spent the day hunting a trench line near Richmond, Virginia with my buddy Darryl. I didn't dig much but I did manage this piece of mashed lead and a fired 3 ring minnie. This is probably the only bullet I've dug that came from an actual battle site.

Here are most of the bullets I've dug that I can say are definitely Confederate. There are 11 .58 caliber Gardners and one .54 caliber Sharps Ringtail. I dug a few more Gardners and one more Ringtail with a carved bottom from the small area that produced this bunch of bullets. Though these are the more common types, all Confederate bullets are cool.

Occasionally when crossing a creek or river, or when caught in the rain, a soldier's ammunition would get wet. Most bullets came in packs of 10 with at least 10 or more percussion caps. Here are two examples where a soldier must have gotten wet and while drying out, threw the wet and useless ammunition into a fire. The result 135+ years later were these two large blobs of melted lead each with an exposed percussion cap fused into the mix. These were most likely full packs of wet ammo and there are very likely more caps entombed in the rest of the lead. Not worth much but still an interesting find. I like 'em!

I don't find many metallic cartridges in my adventures. Here is the only .56 caliber Spencer Rifle casing I've found. It was one of the first repeating rifles to make an appearance in the war and shared the spotlight with the Henry rifle as the most technically advanced small arm of the war.
.
Here are two Civil War Sharps carbine bullets along with a piece of iron buckshot. The small lead ball is of Civil War vintage and was one of three buckshot that went in a smoothbore musket load called "buck and ball" It contained a .69 caliber round ball and three of these lead buckshot. The theory was that with the inaccuracy of the smoothbore muskets, the addition of three of these buckshot balls would increase the chance of a hit when fired.

Here is a US .52 caliber Long Sharps carbine bullet. It looks much like the Richmond Lab Sharps carbine bullet used in the Confederate version of the same gun but it's not. There were many variations of this bullet and I've found quite a few of them.

With all the Sharps carbine bullets I've dug, it was refreshing to dig a new variety of carbine bullet. This is a .54 caliber round is from a Merrill Carbine. Early war issue of this weapon had resulted in many being captured by Confederate Cavalry. The use of the Merrill was common. Requisitions for Merrill ammunition were often found in ordinance returns of Army of Northern Virginia cavlary regiments. This is the Union issued version of the bullet.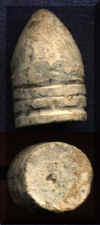 This is what I like to call "War Dirt". It's nothing special really. Just a few .52 caliber Sharps carbine bullets I never broke the dirt away from. This is usually what bullets look like when I've just popped them out of the hole.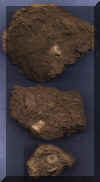 An afternoon of hunting in a Fairfax City campsite produced my second Merrill carbine bullet and these two pistol bullets. On the left is a round for a .44 caliber revolver made under Johnson & Dow's patent by Elam O. Potter. The bullet on the right is a Sage Waterproof round, also for a .44 caliber revolver. I "eyeballed" it poking out of the ground.